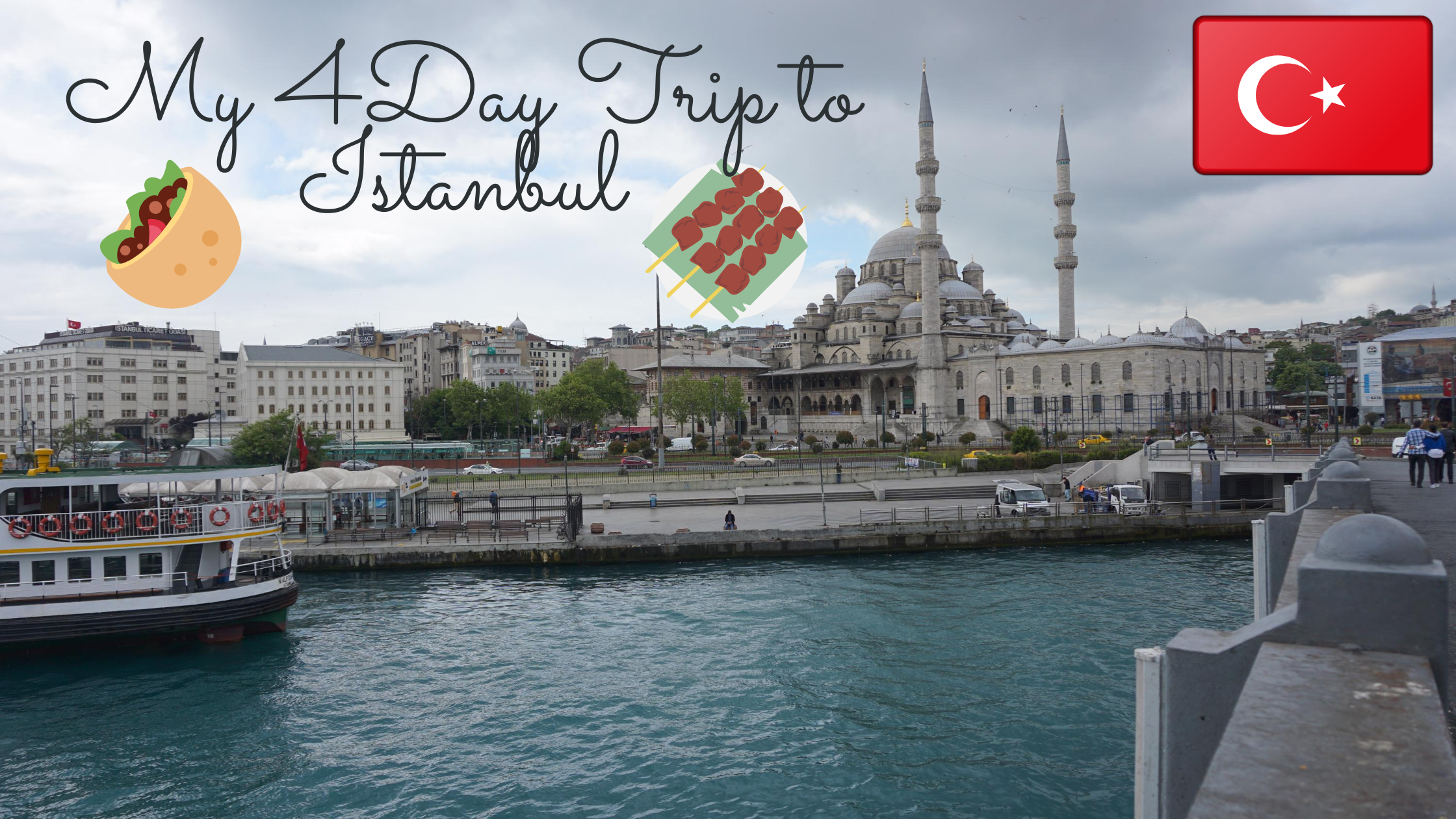 Admit it! Life these days has been filled with longing dreams about holidays and thoughts about travelling again. Well, one thing that gives me the most hope, is thinking about how to spend the airline credit from my cancelled flight this year. We know at least it is going to be this way for the rest of 2020.
While travelling seems like a distant memory, I like to keep my hopes high by revisiting my past holiday moments. This time I landed in the year of 2016, the year I was still living in Vienna and was always seeking adventures around Europe. With my limited time in Europe and savings just enough to afford one more summer getaway, my fiance (boyfriend at that time) gifted me a return flight to Istanbul, Turkey for my birthday. How could I turn it down? It was a perfect time to take a weekend trip and be somewhere of different vibe. So we booked our flights, booked an Air BnB, cleared our calendar on Thursday-Sunday and prepared to have my birthday trip!
Before travelling to Turkey, an important thing you need to organize besides flights and accommodation is the visitor/tourist visa. This is called the electronic A1 visa, single entry with a validity of 30 days that can be easily obtained online from the Turkey e-visa website. With everything booked, we were all set to go! This is what our itinerary looks like:
Day 1: Arrive in Istanbul
There is a daily flight of Onur Air operating from Vienna (Schwechat Airport) to Istanbul (Ataturk Airport) and we booked one that departed on the Thursday. It was my 24th birthday and we flew in the afternoon. It was only a 2 hour flight and we arrived in late afternoon, feeling stunned by the way the city looks. It felt so Asian! (Probably because we were in Europe for a long time). There were crowds, street vendors, arrays of public transport, and traditional markets. As we landed, we headed straight to our AirBnB which was located in the north side of the city.
We had dinner at one of the local restaurant in the Taksim Square, which had a great menu and atmosphere. The area seems a bit touristy as there were many people standing in front of the restaurant, trying to sell dinner. Well, it really just depends on what you want to eat, how much and how local. My birthday dinner was a grilled fish and a veggie platter topped with yogurt sauce.
After dinner, we walked around the square to enjoy the city's night life. It was lively! I had another birthday treat at the ice cream stall which was hilarious 😆. The Turkish Ice cream, called Dondurma, is famous for its thick, sticky texture, and always served with funny tricks from the seller. An extra entertainment for every ice cream bought! We walked towards the Galata Tower to admire its lights and architecture. That was our last stop for the day and off we went back to our AirBnB.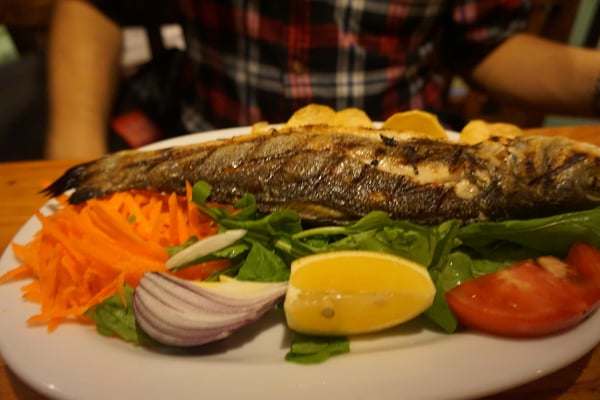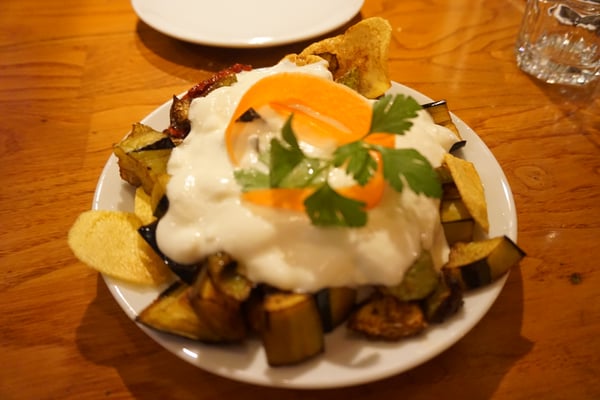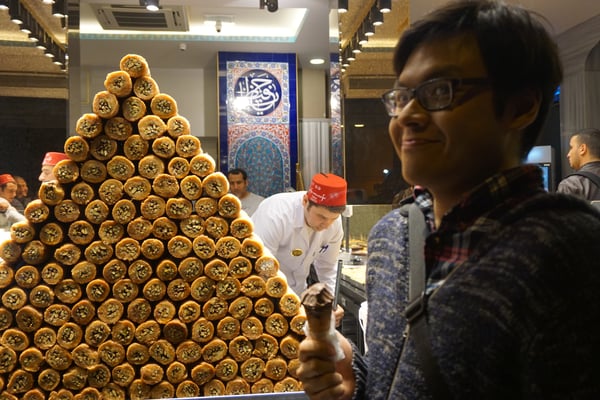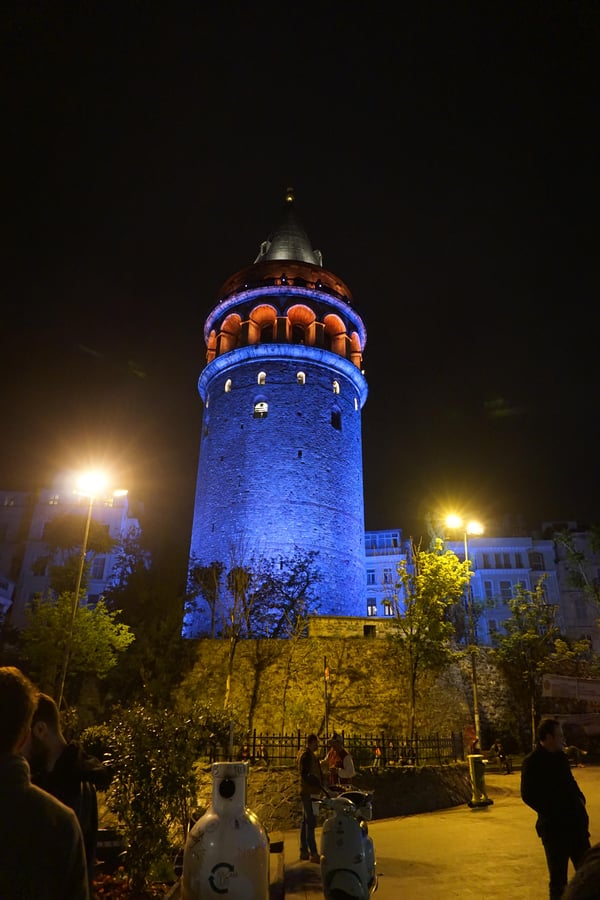 Day 2: Sight seeing around Istanbul city
There are plenty of interesting landmarks to see in Istanbul and they all have history! I started my day with Simit (sesame seeds coated pretzel) with Nutella for breakfast, which you could find along the bridge to go to the south side of the city. Our first stop was the Hagia Sophia, the mosque that was used to be a cathedral or a basilica for the Greek Orthodox Christian church. Today this site serves as a museum the that carries designs in mosaics of gold, silver and glass, calligraphy, merging the art of Christianity and Muslim as represented in the interior of this museum.
Outside the museum, was a large park and a fountain worth visiting. From here we could admire the architecture of the Hagia Sofia and the Blue mosque (Sultan Ahmet Camii). The inside of the Blue Mosque is yet another fascinating design of ceramic tiles, colored glass windows, and sculptured marbles.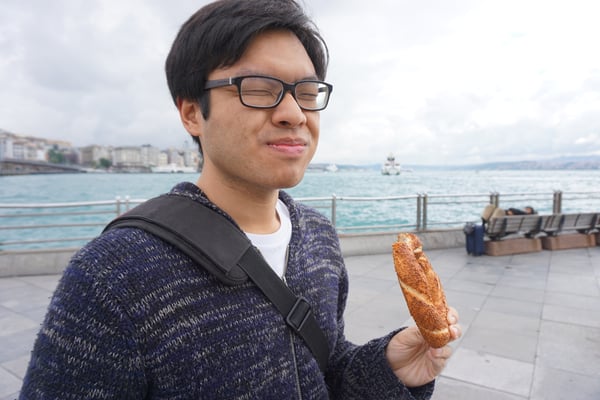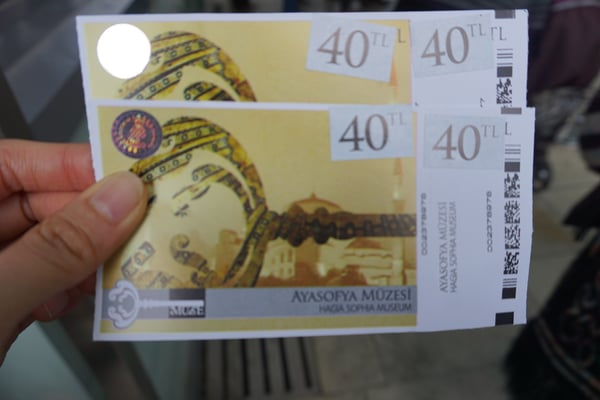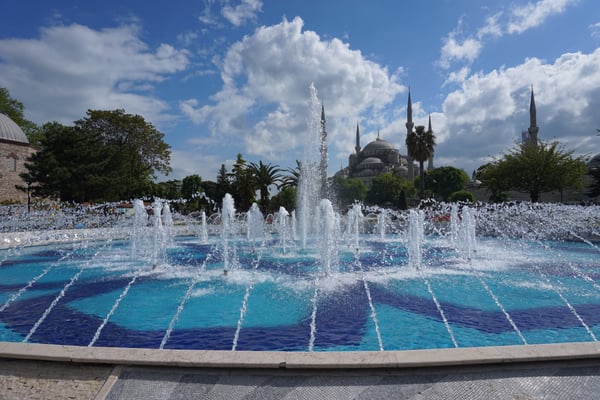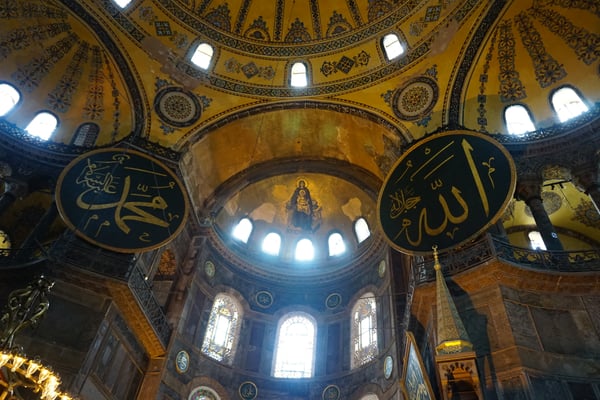 The next site that we visited wast the Basilica Cistern. Located underneath the city, this ancient cite bears the rise marble columns and the legend of the underground Medusa. According to the Greek mythology, Medusa, the snake-headed female monster is capable of turning anyone who gazes at her into a stone. With her head cut off by Perseus and the belief of preserving a large structure, Medusa's head was placed upside down.
Among all the food that we had on that day, the best and the most unique one was Kumpir! Kumpir is a soft boiled potatoes mixed with butter and topped with various cheese, veggies, pickles, sausages and sauces. It was an interesting, calorie loaded snack!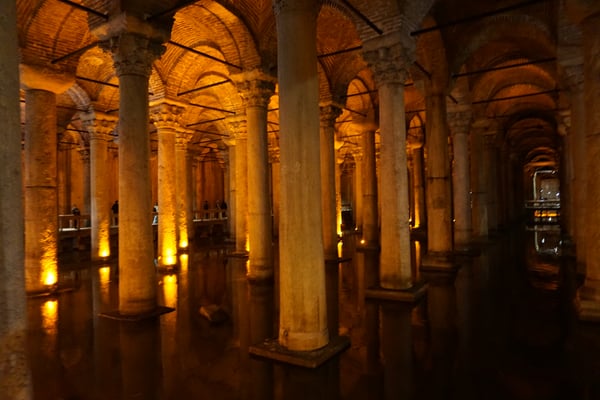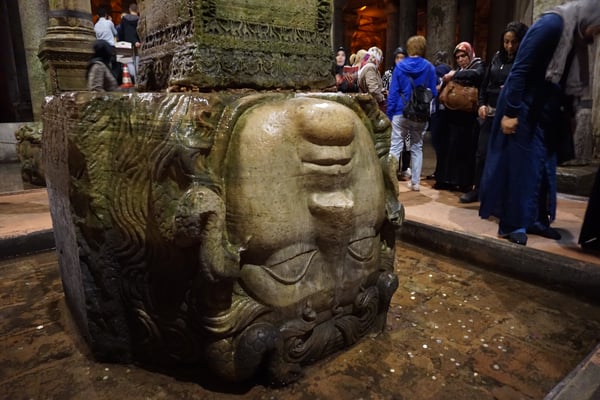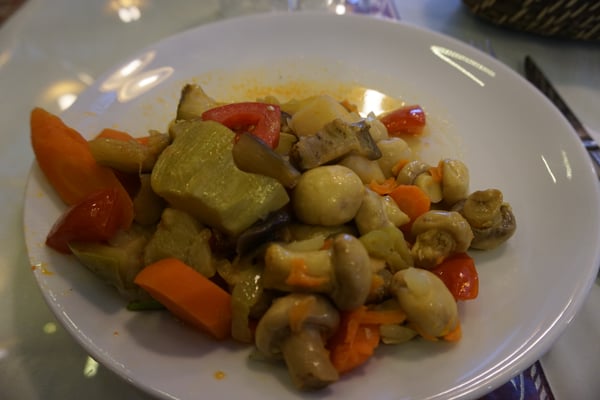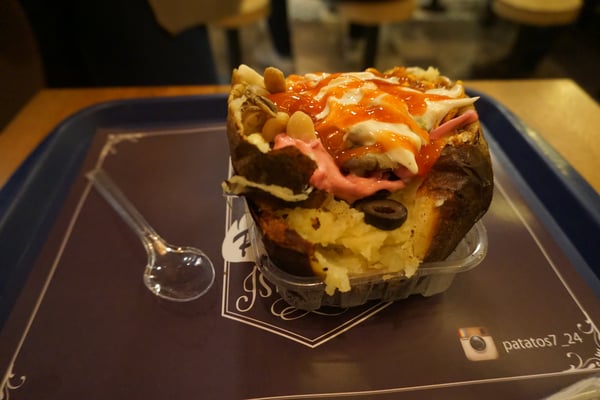 Day 3: EPIC BREAKFAST AND the Asia side of ISTANBul
On our last day in Istanbul, it only made sense for us to start the day with the one epic Turkish Breakfast 😋!!! We went to a popular place called Van Kahvaltı Evi and wow! The breakfast came with multiple plates of breads, eggs, olives, cheese, spreads, veggies, and Turkish tea occupying the whole table! Plus, we had the Menemen (eggs with tomatoes and herbs in a skillet) to eat with the bread. My favorite spread was the tahini molasses and the honey as they were not easily found elsewhere. It took us the whole 2 hours to finish! It was 30 Lira per person (about 10 dollars a head at that time).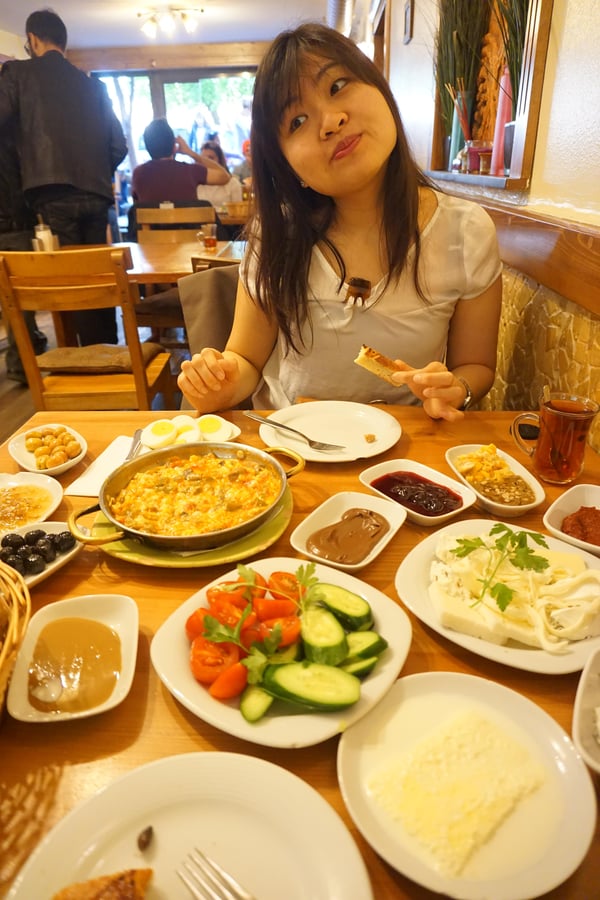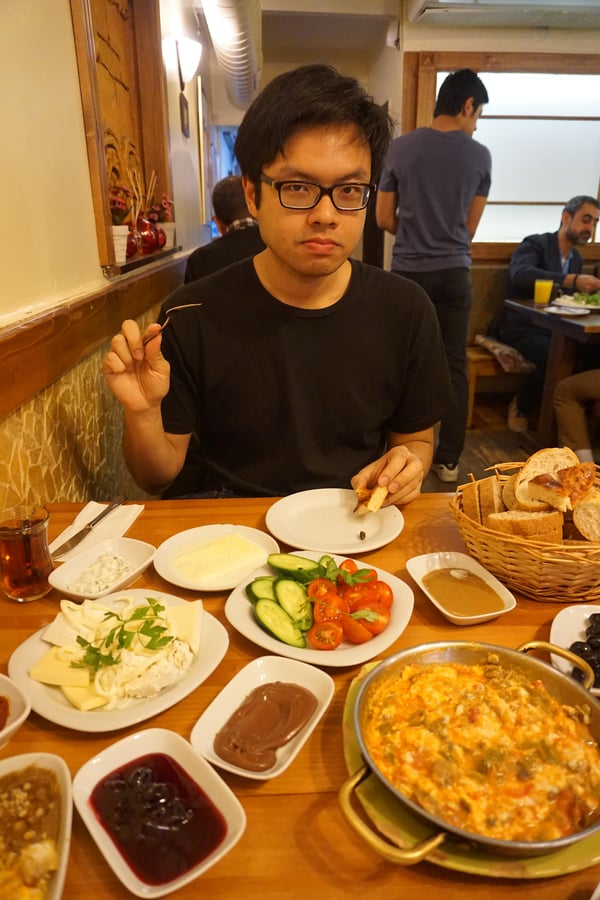 We then went to the Asia side of the city, which is the Anatolian neighborhood in the east side of Istanbul. To go there, we had to take an hour ferry ride. We explored the neighborhood called Kadıköy - there is a flower garden, a harbour where you have the view of the magnificent blue mosque and the Sea of Marmara.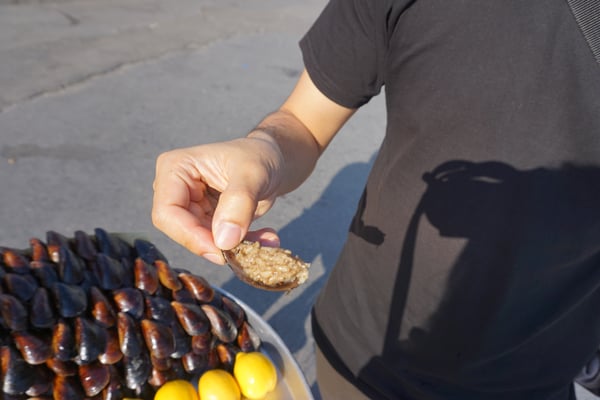 On the way back, we went to check out the Grand Bazaar and the Spice Market (Mısır Çarşısı) where we bought different types of spices that we rarely use like saffron and sumac. We also recommend the Turkish coffee (you won't miss this as the roasted smell will guide you to the stall) and the Turkish tea which I think is similar to Indonesian black tea🤔.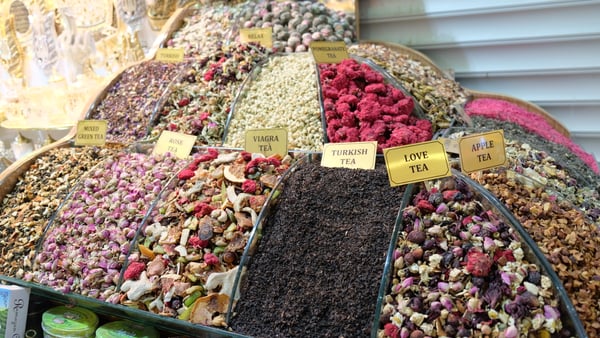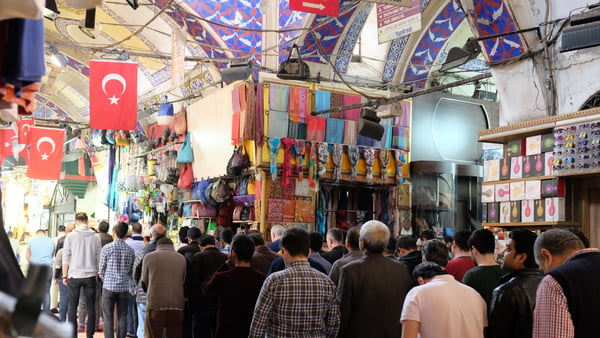 Day 4: Fly back to Vienna
It was Sunday morning and the time for us to go back to Vienna. On our metro ride to the airport, we enjoyed our last moments in Turkey and really thanked God and everyone in Istanbul for letting us visit the country. The 4 day weekend trip to Istanbul was a memorable birthday trip and if I have the chance, I would definitely visit Turkey again!