Finally, I got engaged! - A story of Chinese Indonesian Engagement Ceremony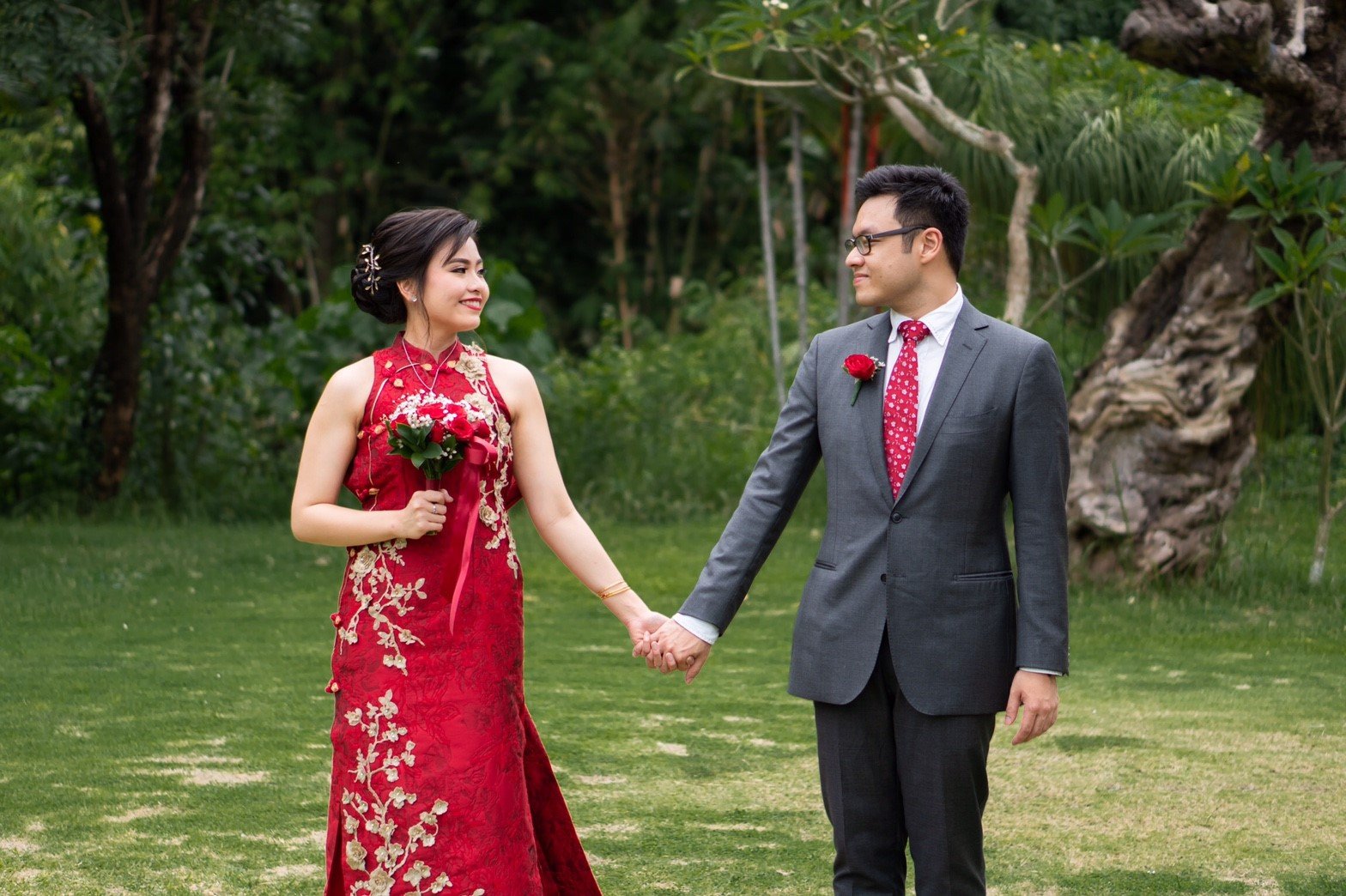 Hi guys!
It has been so long since I wrote last time. Yes, the whole 2017-2018 has been a busy year for me as I tried to get my life in Sydney settled. I can say that now I am based in Sydney. It is my life now, being together with Eugene (My fiance) who has lived here for almost all his life. And having myself work as a researcher which I found much easier in Sydney as there are more opportunities here to pursue this career.
So, I am writing this post to tell you a story about my engagement, which was done in a very Chinese way, the ceremony, tradition, and of course some details of how the decision to get engaged was made. My fiance and I are both Indonesian (we were born in Indonesia) but we also come from family who still maintain Chinese tradition and rituals at home (e.g celebrating chinese new year, keeping an altar of our ancestors, finding good dates based on your chinese zodiac, etc.). I was told that 300 years ago, my great, great grandparents migrated from China to Indonesia. Some family ended up in Medan, Jakarta, Manado, or Bali, basically they are spread over the states in Indonesia. So, Eugene and I might have come from the same ancestral line! Of course after the migration, they settled, some married the locals, some changed names, until their generations after became citizen and no longer have Chinese names. This unique back story is what makes the engagement ceremony different that an actual Chinese one.Eugene and I have been dating for 4 years, and since we have been accepted by both of our families, we decided to take the next step, that is to get engaged. Both families were also very happy to hear the news and made arrangements straight away. The engagement was done in Bali because Eugene and I decided to have the wedding in Sydney, and most importantly because my all family are in Bali. The idea of this engagement is for Eugene and his family to come visit my family, to ask a permission to take me as their daughter in law to be. Additionally, after my mom (on behalf of my all big family) approve and accept the proposal from Eugene's parents, Eugene himself will also i propose to me. I know, it was quite a drama seeing him went down on one knee in front of my family, but the event was so joyful while extravagant. Above all, I am so grateful that My mom and younger sister who are based in Bali, were ready to organize the events from A-Z. They dealt with everything involved and needed for the ceremony.
The event also captured a tradition where the guy and his family bring some compulsory items in boxes which are to be given to the girl's family. The number of boxes should be even (6, 8, 10, or 12, and so on) and so do the number of items in each box (e.g 6 cakes, a pair of shoes). Usually, most families would go with 8-12 boxes as it is appropriate. The item in each box are then split to be given to the rest of their family. The items are called compulsory because it has been already a tradition in Chinese for these items to have meanings for the couple. They are as follows:
1. Boy and girl cakes
= these can be in the form of cookies, cakes, decorated to look like a boy and girl, so that the couple will be granted with beautiful kids in the future
2. Ting-ting candy
= made of peanuts and nougats stuck together with sugar so that the couple's life will always be sweet and sticking to each other
3. Maco cake
= this is a dry version of the Chinese ball cake that has a sesame seed coating on the outside and a mung bean paste on the inside. You might have seen this round cakes in Asian store, or on the street in China. For this occasion, we chose for the dry one (like a cracker / sesame bar) as it has a longer shelf life and easier to pack in the box or the hamper.
4. Canned lyche and longan
: this are to wish the couple that they always have food at home, or that they are always given enough to eat
5. Apples (red)
: for a long lasting, fruitful and wealthy married life ahead
6. Oranges (sweet ones):
definitely for wishing a sweet marriage life ahead
7. Additional cakes or candies, / jellies
= We chose to have an extra box for special cake, Lapis Legit (1000 layer cake). But people can also chose other types such as Pies, layer cakes, marble cakes or anything that represent the festivities! Of course we also have to consider whether the cake can be cut into pieces to be distributed
8 . Complete accessories and clothing from head to toe for the guy and for the girl
= this is to be given by both sides as they will be exchanged. This shows that the couple can provide each other complete protection, also serve as meaningful gifts that can be used or worn by them.
Those 8 items are just the examples from my engagement ceremony. The items put in a box need to be 6, or 8, or 10, anyway, has to be even number. In total I had 12 boxes, because the clothing and accessories were put in 2 boxes (1 box has clothes, another has bags, wallet, etc) each for me and Eugene. Everything was also arranged and decorated beautifully. I also mention something about hampers - so, we prepared hampers, souvenir boxes that would be given to the guests at the end of the event. These boxes contained the same items that were in the main 12 boxes. Each family would get 1 so as to inform them that I was getting engaged, and was already asked to be part of another family. Quite dramatic haha!
My engagement ceremony was held on the 23 December 2018, as it was believed to be a good, auspicious date for both of us based on our Chinese zodiac (Eugene and I are both monkeys :)). The ceremony started at 10 am, with the MC welcoming all the guest. At the same time, 12 people from my family (my cousins, uncle, aunt) were ready on the stage to greet the 12 people from Eugene's family. Each of them brought the main box to be handed to my family.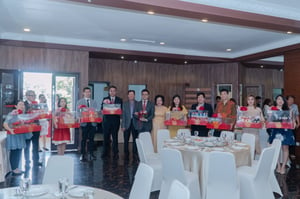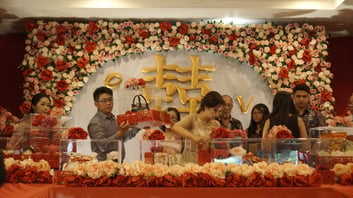 As they gave and received the boxes, they arranged them in front of the long table on the stage. This whole setting is actually quite a modern Chinese engagement decoration style. The family members then went back to their seats. The MC then handed the Mic to my mom, moving on to the actual business. This moment, my mom, Eugene and Eugene's mom and dad were already in front of the stage. My mom gave her welcoming speech and acknowledged the intention of Eugene's parents visit. There was quite some dialogue in this part, until my mom accepted the proposal from Eugene's parents.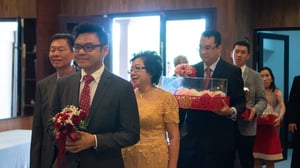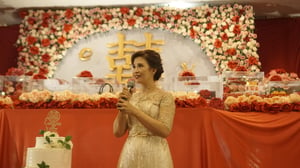 As both sides agreed and accepted, it was time for my mom to pick me up to the stage. Before this, I was actually hiding somewhere outside the ballroom. It was a pretty overwhelming moment to reveal myself, and to see my family again that I haven't met for years. As I entered the room, I greeted them. It was a such dramatic entrance.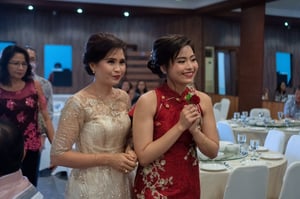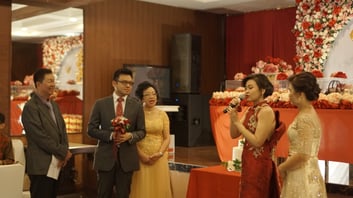 Now this was the main event in the ceremony! We all gathered on the stage. I was so glad that the MC did a very well done job in guiding the event. She made the ceremony quite entertaining by asking me in person my opinion on the proposal. She then made Eugene said it in person and went down on one knee, haha. Then I received the Engagement ring on my finger, followed by necklace from Eugene's mom, some red envelopes from Eugene's dad. We got to cut the cake (made by my sister!) and fed the cake to each other >.<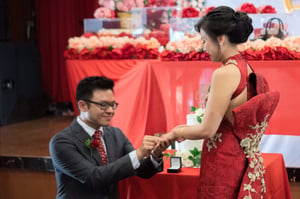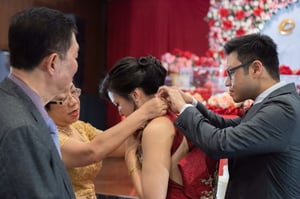 And that was it! The main ceremony was done! We officially got engaged,
in front of all our family! Such a happy moment and definitely a romantic one, like a mini wedding, as he said! For the rest of the event, we proceeded to greeting all of our guests, and they too were filled with joy as they saw us happy being together. The busiest person in this event was definitely my sister, Vonny, who has spent all her sweat organizing it, the guests, and made bookings for everything! I am really thankful for my family. My aunt (my mom's sister no. 8) was so excited and she contributed to the event by entertaining the guests with her traditional Taichi dance (I think that's what it was based on the move).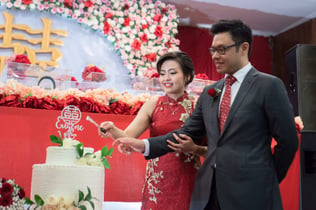 She was holding the Chinese fan on both hands and danced gracefully to the song she prepared. Yeah, this was quite entertaining!

After all the food was served and the guests were enjoying deserts, Eugene and I decided to also entertain our guests by singing a duet :D Well, this was pretty spontaneous (of course my idea) as it also happen that the venue we hired had a list of karaoke songs. We picked the Meghan Trainor and John Legend duet, "I am gonna Love You like I am gonna lose You". I enjoyed this part, though our voice was not perfect and we did not practice before hand 😆😆😆. We ended the ceremony by taking more photos with family and friends. I am also glad that I had my couple of friends from Junior high and my best girl from high school came to my party. I had a lot of fun catching up with them.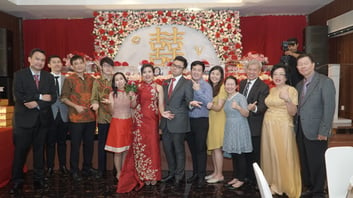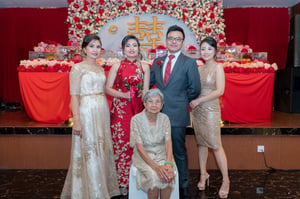 So this is the end of my post. I hope this is inspiring and helpful to everyone out there wanting to enter the next step of relationship, and to hold a similar event. Below is the details / Instagram accounts of every single service or things that I hired or used for the event, just some helpful recommendation, especially if you guys are in Bali.
Thank you guys! Thank you everyone who has supported me and my engagement ceremony!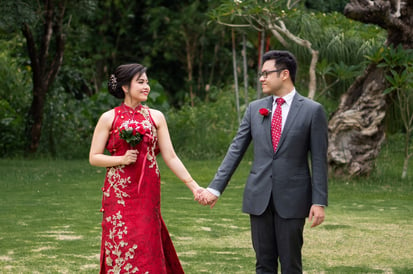 Dress : @bowandvow
Photo : @selayarpandang
Make up artist : @emma_augustine77
Decoration and boxes : @boosthampers
Engagement cake : @vonnbakes
Venue : @hongkonggardenbali
Invitation and souvernir cards: @solvedesigns